My little girl had a surprise in her backpack yesterday. Her preschool class had made native american corn husk dolls.
She told me this morning that little boys and girls made these dolls a long time ago.
I think it was a pretty cool experience for her.
If you would like to make a corn husk doll you can find the instructions
here
. This link has great suggestions for decorating your doll including soaking her in watercolors, food color, coffee or tea to give them color.
You can watch a video tutorial
here
.
I want a whole family to decorate with this Thanksgiving.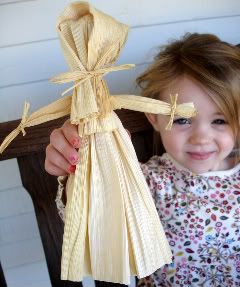 you can find the legend of the corn husk doll here.